"Stone Cold" Steve Austin
(voiced by
himself
) is a WWE wrestler and one of the main characters in
Celebrity Deathmatch
. He sort of acts as the show's scientist, making things like giant gundam-like robots, mutated
super freaks
, etc. He doesn't appear in the revival of the show, for once Nick mentioned he was too expensive.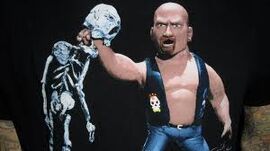 Stone Cold appeared as a recurring guest commentator. One time, after having an argument with his boss Vince McMahon, he challenged him to a deathmatch and won. (see "Stone Cold" Steve Austin vs. Vince McMahon)
Ad blocker interference detected!
Wikia is a free-to-use site that makes money from advertising. We have a modified experience for viewers using ad blockers

Wikia is not accessible if you've made further modifications. Remove the custom ad blocker rule(s) and the page will load as expected.